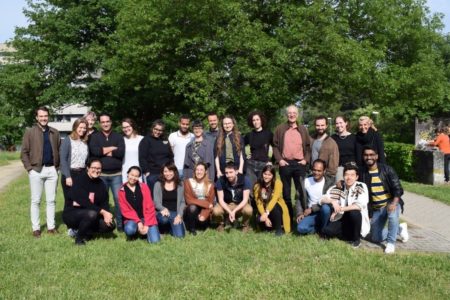 Al-Afif Haithm
Yemen, Architect
Haithm started his academic career as a lecturer in Sana'a University, he was teaching city planning, architectural design, architectural drawing and graduation projects supervision. One year before that, he received his B.sc in Architectural Engineering from the same university. In 2016 he started his Postgraduate program in culture heritage and sustainable development at the university of Panonnia – Hungary before getting admitted to the Mundus Urbano program. He has an experience in construction supervision and buildings design and he is interested in mega projects construction and sustainable architecture. He also likes drawing and making architectural models.

Brooj A. Ammari
Yemen, Architect
Motivated by her passion for art, architecture and the meaning they add to people's life. Brooj studied architectural engineering at Sana'a University. She also volunteered in rights based awareness campaigns and cultural initiatives. Coming from a deep-rooted city like Sana'a, she is always motivated to protect the identity of cultures and learn from local knowledge. She hopes the program will help her gain a deeper understanding of urban problems in the global south, and will allow her to be part of the movement that aims to mitigate these issues.
Andréa Benoist
France, Architect
Andrea is a half French, half Guatemalan young woman who grew up in the south of France near the Mediterranean sea. She left her home country at 17 years old to study architecture in Montreal, Canada. After graduating from Université de Montréal, she decided to take one year off to work in architectural firms, do some volunteering work to build emergency houses in informal settlements, and travel around central America. She mostly stayed in Guatemala to reconnect back to her roots. She is strongly attracted by emergency architecture and that is why her path lead her to start the Mundus Urbano program in 2017 with hopes on pursuing an international career.

Vasiliki Bourli
Greece, Architect
Vasiliki is an architect and holds a Master's in Urban Design from the Technical University of Berlin and a Diploma in Architectural Engineering from the Democritus University of Thrace in Greece. During her studies, she got broad theoretical knowledge on topics related to urban development. She spent 4 months volunteering in a Community Based Organization in Kenya involved in urban farming projects in slums of Nairobi. She is an active member of the organization 'Architekten über Grenzen' (Architects beyond Borders) in Germany. The last three years has been working as an architect in private and social housing projects. She joined Mundus Urbano in search for new professional routes in the field of sustainable emergency architecture.
Merve Dadas
Turkey, Architect
Merve is an architect graduated in 2011. She worked for 6 years with a number of different architectural firms on big scale projects ranging from residential to highrise. She is also experienced on project management. Mundus Urbano is a step for her to acquire the necessary knowledge and skills in order to take place in sustainable construction and participatory urban development projects all over the world.
Andrew Denault
Canada, Social Entrepreneur
Andrew is interested in practical development solutions through coordination across multiple disciplines, and operations–finance–research networks. The challenges of this century are significant but not insurmountable. New paradigms are necessary. Can we leverage biomimetics, AI, or cryptography for the next humanitarian breakthrough? Mundus Urbano recognizes that multidisciplinarity is a catalyst for innovation. Students spend hours interweaving strands of science, technology, and design, to create the DNA to solve the problems at hand. The helix is spun, more coffee is brewed, and another codebase is added and tested. Will this generate the best result? Andrew holds an Hon. B.Sc from York University in Toronto, with a focus on physics, science and technology studies, and complex systems. He leverages corporate experience in supply chain management and sales. In Canada he ran boutique firms in tax consulting and operational support working with local universities, businesses, and several start-ups. His international experience includes operations and revenue-generation, with NGOs in Brazil, Haiti, and Guatemala.

Rudolf du Plessis
South Africa, Economic Diplomacy Researcher
Rudolf du Plessis is a Mundus Urbano Student from South Africa. Before joining MU he was a researcher for the South African Institute of International Affairs' Economic Diplomacy Programme, where his work focussed on African infrastructure development and the role of Multilateral Development Banks, Development Finance Institutions and emerging funders such as China. He holds a degree in International Relations from the University of Pretoria and a Masters degree in China studies focussing on China's trade and investment policies. His research includes the role of development finance in cities in the global south, Green Finance and infrastructure development.

Chizuru Hasegawa Harris
Japan, Architect
Chizuru was born in Japan and spent half of her life, sofar, overseas. She holds an Associate of Arts in International Development, and Bachelor in Political Science and Economics from Nihon University, Japan. She also, holds an Associate of Science in Architecture, Engineering and Auto CAD from Honolulu Community College, USA. During her studies, she engaged in activities in NGOs in Japan, and backpacked over 20 developing countries to fulfill her interest and expand her boundaries. After graduation, she practiced in an Architectural firm in Honolulu for seven years, including her internship period. Her expertise is in residential architecture, but the firm also specialized commercial, federal and historic preservation projects. She also worked in the office of Kengo Kuma and Associates in Tokyo. To shift back to her carrier in the international development field, she joined an JOCV (Japan Overseas Cooperation Volunteers) and served in Senegal as a community development associate for two years. She is excited about this interdisciplinary programme in urban development to consolidate her academic background and experiences. In Mundus Urbano, she sees a great potential to step up in international professional career.
Ramiz Khan
India, Urban Environment Professional
Ramiz has a bachelor in Anthropology Honours and Post-Graduation in Environment Management. After completion of his post-graduation in 2010, he joined People's Science Institute (PSI), Dehradun, India. In PSI, he was mainly associated with the development and management of micro-watersheds in the hilly terrain of Himachal Pradesh through participatory approach to improve the quality of life of the people. Subsequent to the short stint at PSI, he joined the South Asian wing of ICLEI – Local Governments for Sustainability. In his professional experience with ICLEI South Asia for nearly 7 years, he has congregated ample practical and grassroots level experiences on urban development and management. He has had opportunity to work with the wide range of stakeholders – local community at the grassroots' level, Government Officials and the elected members at local, state and national levels in India, Bangladesh, Bhutan, Sri Lanka, and Nepal. During his association with ICLEI South Asia, he has worked with about 35 Urban Local Governments in 5 South Asian countries on issues related to climate change adaptation, building city resilience, municipal solid waste management, sanitation, environmental assessments, and various other capacity building programmes. He believes, the practical work experience he has garnered through his professional career would be greatly enhanced if it is backed by further theoretical knowledge and formal academic training and therefore, he decided to join Mundus Urbano.

Dini Kusumawardhani
Indonesia, Architect & Civil Servant
Dini holds a Bachelor of Engineering in Architecture from Universitas Sriwijaya, Indonesia. After graduation, she joined a community service exchange program under Canada World Youth in which she mainly volunteered for Habitat for Humanity in Prince Edward Island. Back to Indonesia, Dini gained multifaceted professional experiences; first by working in an architecture office, then by working as an editor for ARCHINESIA–Jakarta-based publication covering architecture and urban development in Southeast Asia–for 3 years. In order to bring her interest to a more applicable platform, she joined Research & Development Agency of the Indonesian Ministry of Public Works & Housing in which she works as a Monitoring & Evaluation and Reporting Officer for the last almost 3 years. Being born and raised in a disaster-prone context, Dini has research interest in urban resilience and want to gain deeper knowledge about it through Mundus Urbano.
Mateus Lira
Brazil, Architect
Mateus holds a bachelor in Architecture and Urbanism from Minas Gerais Federal University, Brazil. He has a particular interest in participation and bottom-up urbanism. He has been part of research group Living in Other Ways, where he conducted praxis-based research looking at autonomous practices in informal settlements. He is also co-founder of collective Micrópolis, which develops interdisciplinary projects on public space, participatory processes, urban pedagogy and local identity. He has also been part of Architects Sans Frontiers Brazil, working in low-income communities in partnership with social movements and government institutions. In Mundus Urbano, Mateus seeks to consciously reflect about his previous experiences and have a holistic understanding on the potentials of bottom-up city transformations, trying to associate academic and professional perspectives.
Samat Mambetshaev
Kyrgyzstan, Architect
Samat holds Specialist degree in Architecture from Kyrgyz-Russian Slavic University. His graduation project "Observatory in Naryn town" revitalized one of the utopian concepts of Soviet cosmism. He had worked as a program assistant in The School of Theory and Activism Bishkek (ShTAB) – an interdisciplinary artistic, research and activist organization, which follows the principles of Soviet avant-garde art and activism. Samat is interested in Radical Futurism and its influence on cities and urban planning.

Nurjehan Mawaz-Khan
Pakistan, Architect
Nurjehan was born in Karachi and raised between there and Islamabad. She graduated with a Bachelors degree in Architecture from the National College of Arts at Lahore in 2009. Since then, she has been involved in a diverse sequence of professional and volunteer work. The former includes architectural design and planning of residential, recreational and educational projects, restoration and adaptive re-use, urban research and writing, as well as teaching design theory and fourth year urban studio. The latter includes informal settlement mapping and tenure advocacy, post-flood and earthquake relief work, and most recently, home upgradation with Habitat for Humanity and community engagement for the Lowline project in New York, where she spent the year before joining MU.

Ahmad Nasrolahi
Iran, Urban Heritage Practitioner
Ahmad was born in Borojerd, Iran. He was director of several short-documentary movies about handcrafts, cultural and world heritage properties during holding B.A and M.A degrees in restoration and conservation of historical buildings and sites at University of Kerman and Tehran Islamic Azad University. He has been working for Iranian Cultural heritage Organization in Bam, Pasargadae, Bisotun, Takht-e Soleyman and Tchogha Zanbil World Heritage Sites for more than 10 years. He is the author of more than 8 technical papers in Islamic art and architecture and conservation of cultural heritage.  His current studies are on the impact of urban development, with the special focus in historical urban fabrics. His main interest is in capacity building in urban heritage sites, especially issues regarding the local needs.
Andrea Noblega Carriquiri
Uruguay, Architect
Andrea holds a B.Sc. degree -with honours- in architecture from Universidad ORT (Uruguay) where she later became an assistant professor. Prior to joining the MU programme, Andrea worked as an architect in several architecture and construction firms focused on commercial architecture and housing design. She was also a volunteer architect at an NGO whose purpose is to overcome poverty in informal settlements by developing participatory projects with communities in need. She has grown interest in international cooperation after her studies in Dessau, Germany, where she developed a multi-cultural professional network. The future role of architects in the construction of equalitarian cities is one of her main professional concerns. By joining the MU programme she aims to learn from multi-disciplinary professionals and obtain the necessary skills in order to help to mitigate and suppress social inequalities in urban development. On her second year she looks forward to focus on resilient architecture and post disaster reconstruction and is determined to improve the quality of life of the most vulnerable in a near future.

Sruthi Ravi
India, Architect
Sruthi has been passionate about humanitarian architecture since she graduated from M. S. Ramaiah Architecture School, Bangalore, India. Her experience in a boutique firm in Dubai helped her strengthen her technical base before she could venture into the development sector. She went on to working in SELCO foundation, Bangalore, as an architect in the built environment team. She mostly worked in urban and rural areas in Karnataka, providing built environment solutions for the underprivileged. Her choice of this program was to learn more about the development sector and venture further into the field of emergency architecture.

Shreya Satheesh
India, Civil Engineer
Shreya was born in India but spent most of her formative years in Kuwait. She completed her Bachelor in Civil Engineering from National Institute of Technology, Calicut, India. As an intern, she has worked in both private and government organisations, in India, in areas of infrastructure development. These include large scale metro rail projects, water reservoir construction and multi-storey building construction with private developers. She was part of a rural fellowship programme which focused on community development and she encountered various aspects of planning like community participation, socio-economic co-relation and ecological considerations. Over the years, her predilection towards this profession grew progressively and Mundus Urbano is an agglomeration of all her interests. She hopes to bridge the gap between the world of academics and practitioners by putting to use the tools she acquired in this course to tackle problems of urban informalities.
Thomas Schiefer
USA, Environmental Engineer
Thomas hails from Long Island, New York.  He studied the structural track of Civil Engineering at Brown University in Rhode Island.  He has spent the last three years working as en engineering consultant in for major development projects in New York City, including the Hudson Yards, Riverside South, and the Brooklyn Navy Yard.  Thomas would generally work on-site, and his primary duties included performing environmental assessments, design and implementation of soil remediation strategies, and corresponding with state and local regulatory agencies.  He would also oversee and approve the installation foundational elements, support of excavation, storm-water detention systems, and  bulkheads.  Thomas hopes to combine his technical background with a greater knowledge of designing urban spaces to affect positive positive change in growing cities, especially in regard to the environment, public transportation, and inequality.
Semul Sheikh
Bangladesh, Geographer
Shemul has completed his B. Sc (Honours') and M.Sc in the field of Geography and Environment at Jahangirnagar University, Savar, Dhaka, Bangladesh. After his graduation, he joined as a faculty in the department of Environmental Science and Resource Management at Mawlana Bhashani Science and Technology University, Santosh, Tangail, Bangladesh. He has also a Bachelor of Physical Education (B.P.Ed) at National University, Bangladesh. His special interest is in Climate change induced migration and Urbanization. He has skills in research in Climate Change and Urban Development publication writing, monitoring, evaluations, and GIS mapping. His aim is to develop his career on Urban Climate related issues.

Marina Skarpeti
Greece, Architect
Marina holds a BA (Hons) degree in Architecture from the University of Manchester, UK and has participated in several natural & sustainable building workshops in Europe such as the Base Habitat studio of the University of Art and Design, Linz, Austria. After working for a year in private housing projects, she joined a community organization turned assosiation called Communitism; a project aiming to motivate community structures into reviving abandoned cultural heritage buildings in the city center of Athens. She assumed administrative and curatorial responsibilities in Communitism where she is still working. She joined MU because of the multi-disciplinarity of the course and in hope to approach urban development from multiple aspects of economics, politcs, sociology as well as urban design. Her main interests lie in bottom up, grassroot initiatives and resilient design in the urban setting.

Liudmila Slivinskaya
Belarus, Political Scientist
Completed bachelor studies with double major in Law and Political Science, has a Master degree in Political Science, wrote her master thesis on national identity and globalisation. Started her career in the field of international cooperation in higher education as a grantwriter and project manager. Under 5 years of work experience had been project manager and local coordinator for a number of projects under EU-funded Tempus, Erasmus Mundus, Erasmus+ "CBHE", Jean Monnet programmes, Visegrad Fund, CIMO. Member of NGO "Minsk Urban Platform". Research interests include strategic urban planning, city development policies, post-socialist urban transformations.

Susan T. Parizi
Iran, Urban Designer
Susan holds a graduate degree in urban design from the University of Tehran. Her focus as an urban planner and designer has been urban morphology and the process of urban design with attention to the evolutionary nature of urban development. Her professional experience in Iran has been as a researcher and coordinator, working on a range of issues in global, cultural, and social contexts. Joining Mundus Urbano, she continues work on the spatial evolution of global cities and the process of urban planning and design within the context of socio-economic development.

Juan Carlos Uribe Vega
Colombia, Landscape Architect, NGO Coordinator
Originally from Colombia and Venezuela, Juan Carlos holds a Bachelor in Environmental Sciences and Landscape Architecture from Chiba University in Japan. After pursuing one year of graduates studies in Sustainability Sciences at the University of Tokyo, he went on to work with Peace Boat, a Japan-based NGO in Special Consultative Status with the Economic and Social Council of the United Nations, coordinating several international programs and campaigns, including a partnership with UNISDR's Making Cities Resilient Campaign and Peace Boat's Global Voyage for a Nuclear-Free World. Before joining Mundus Urbano, Juan Carlos worked for two years in fundraising and development in the global health sector. He is excited to bring together his professional experience in the nonprofit sector with his passion for the built environment, and contribute to the creation of more equitable, sustainable and resilient communities.